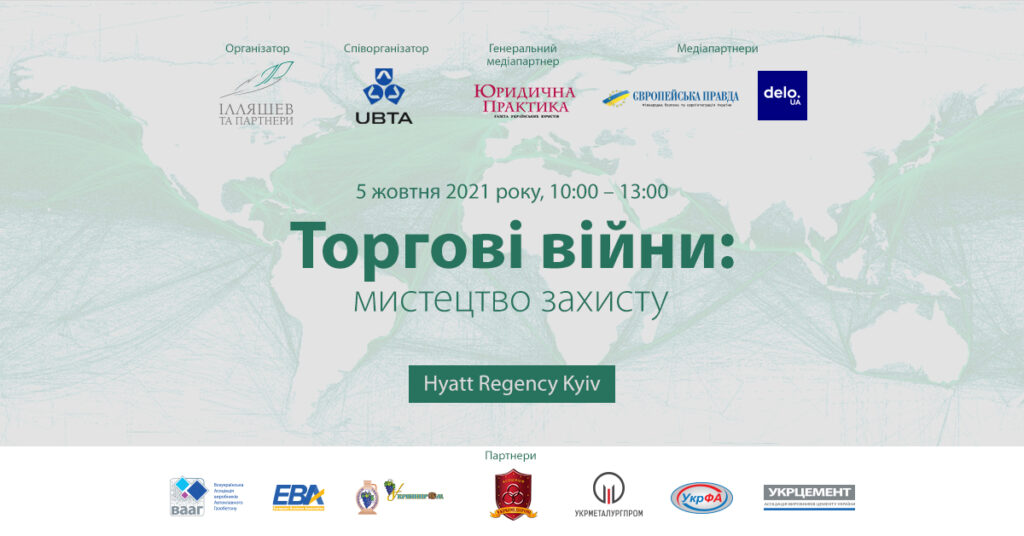 Law firm Ilyashev & Partners and the Association Ukrkondprom is invited to the discussion of the most pressing issues in the field of international trade at the conference "Trade wars: art of protection ». Conference will take place 5 October 2021 year at the Hyatt Regency Kyiv (Alla Tarasova Street, 5, m. Kyiv) and online.
In focus conference:
Special report "Priorities of Ukraine in the process of revising the Association Agreement with the EU"
Session 1. HARDtalk. Foreign economic vectors of Ukraine
Session 2. EXPERtTalk. Shopping (self-) insulation
International conference, which Ilyashev & Partners law firm with the support of Ukrkondprom organizes the fourth year in a row, brings together government and business representatives for discussion of the most pressing issues in the field of international trade, sanctions as tool of trade wars, and protection of the internal market.
Speakers:
Olga STEFANISHINA, Deputy Prime Minister for European Affairs and Ukraine's Euro-Atlantic integration
Taras DUCK, deputy Minister of Economy of Ukraine - Trade Representative of Ukraine
Sergey TELENYK, the Deputy Minister economy
Angelica HEMP, Deputy Chairman of the Antimonopoly Committee of Ukraine - State Commissioner
Andriy LYTVYN, Deputy Director of the Office export promotion
Svetlana MYKHAYLOVSKA, head's assistant European Business Association
Nazar BOBYTSKY, director UBTA Brussels office
Alexander Dombrovsky, head board of the Global 100RE Ukraine union, President of MHP Eco Energy
Stanislav ZINCHENKO, director GMK Center
Moderator - Olena Omelchenko, partner of Ilyashev Law Firm and Partners ».
We offer leaders of enterprises in the industry to take part in the event and join the discussion. Registration by link: https://tradewar2021.ticketforevent.com/