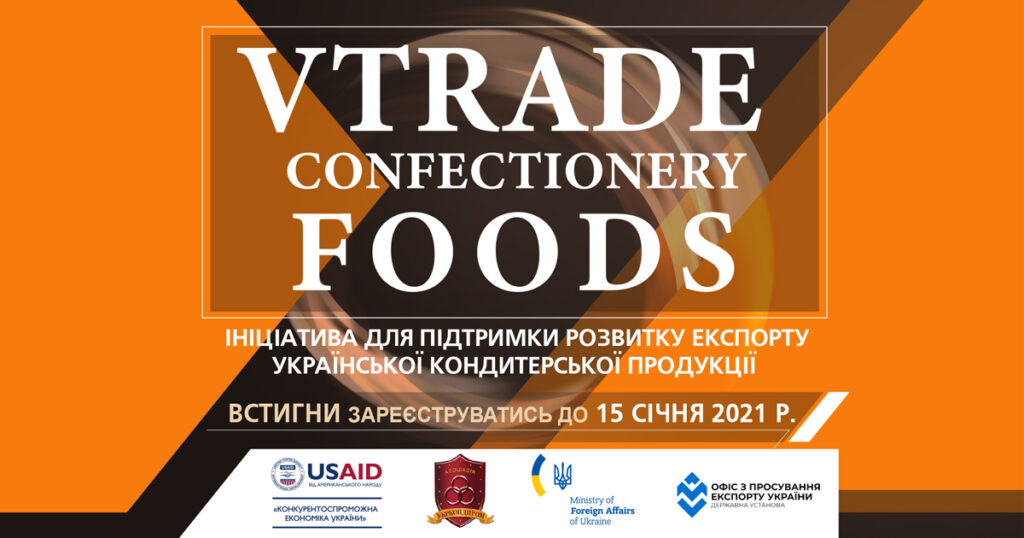 The VTrade Confectionery Foods Initiative is implemented under the support of the USAID "Competitive Economy of Ukraine" Program to help Ukrainian confectionery manufacturers despite the Covid-19-related restrictions to develop export and deepen trade relations with the Association of Southeast Asian Nations (ASEAN) and Gulf Cooperation Council (GCC), countries through 2 activity components:
I COMPONENT. ONLINE B2B MEETINGS.
With the help of local consultants - residents of the Kingdom of Saudi Arabia and the Philippines, a list of potential partners,, importers and distributors of confectionery products – from ASEAN and the GCC countries will be formed and individual online B2B negotiations for Ukrainian confectionery manufacturers will be organized. It is also planned to organize at least 60 online B2B meetings between Ukrainian confectionery manufacturers and potential domestic and international buyers in each of the two 60 regions within the period from January to April, , 2021 year.
II COMPONENT. B2B OUTBOUND TRADE MISSION in Philippines and KSA.
When Covid-19 restrictions allow, , trade missions to the Philippines and Saudi Arabia , will be conducted for Ukrainian confectionery manufacturers to meet with local importers and distributors of confectionery products (tentatively - July-August 2021 .).
Requirements for participants:
• Export experience;
• Availability of an English-language site and catalog, as well as English-speaking managers for B2B negotiations;
• Availability of the necessary certificates and compliance with the food requirements and regulations of the target markets.
To join the VTrade Confectionery Foods initiative, Ukrainian confectionery producers need to submit an application form https://forms.gle/jrHLXx5aauyPKg3x7 before 15 January 2021 year.
USAID Program "Competitive Economy of Ukraine" supports star-ups and MSB enterprises with the aim to enhance their competitiveness on local and international markets, helps to build transparent and simplified regulation, and provides Ukrainian companies with opportunities to benefit from international trade.